A Fine Feathered Frenzy
Season 1, Episode 57
Air date
October 25, 1954
Directed by
Don Patterson
Episode guide
Previous
Real Gone Woody
Next
Convict Concerto
A Fine Feathered Frenzy is the 57th episode of the Woody Woodpecker series.
Woody Woodpecker gets tossed out of a fancy restaurant for taking out his own lunch box and paying a single coin for a cup of coffee. He lands in the trash and spots a personal ad of a Gorgeous Gal who is rich, has lots of food and wants to meet and marry a young man. So he calls her up and hears an incredibly sexy voice. It turns out Gorgeous Gal loves woodpeckers so Woody instantly becomes the only thing on her mind and she can't wait to meet the man of her dreams. After their conversation the groom to be gets excited and his eyes bulge out while he jumps up and down with joy. So he heads on over to her mansion. With the two having fallen in love with each other after just one phone call it seems marital bliss is on the horizon.
To the woodpecker's delight, Gorgeous Gal does indeed have lots of money and lots of food. On the downside, despite her beautiful voice she is an incredibly overweight and extremely elderly bird. Woody is no longer interested but Gorgeous Gal falls even deeper in love with him, gets insanely turned on and chases him around her house. She attempts to seduce him with her lovely voice. Gorgeous Gal also poses provocatively for him, tries to tempt him by wearing different outfits or just grabs and kisses him at every opportunity. Some of her most extreme flirtations involve hiking up her skirt to show off her toothpick skinny legs and allowing him to peak at her in a bubble bath. Eventually she dawns a wedding dress and ambushes him with a priest ready to marry them. Woody Woodpecker flees the mansion, runs clear across the country and swims to a small island. She pursues and traps him in a golden submarine. The priest exits the watercraft after performing the ceremony. Mrs. Gorgeous Gal Woodpecker sails away with her husband for their honeymoon.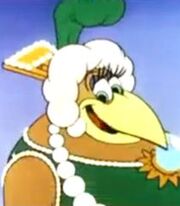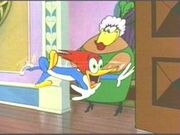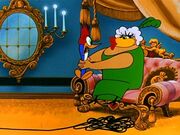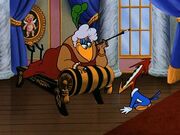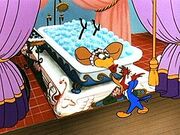 - This cartoon 'A Fine Feathered Frenzy' has at times been featured under an alternative title, 'The Last Chase.'
- While she did not receive on screen credit for her performance, Gorgeous Gal was voiced by Gladys Holland. http://tralfaz.blogspot.com/2017/10/gorgeous-gal-is-gone.html?m=1