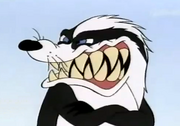 The Badger is a minor character that appears occasionally in both The Woody Woodpecker Show and The New Woody Woodpecker Show. While he's not truly a villain, he has worked alongside Wally Walrus and he does speaks in a gravelly, deep, and generally creepy voice. He also really likes tobogganing.
"Hiya, buddy..."
"Grr..."
"Right this way... buddy..."
"I TOLD you! The world's greatest sport is tobogganing! Nothing higher! Nothing closer to perfection! How many times do I have to tell you? Can't you people just get it though your heads? Toboganning rules! Oh, it's my purpose in life..."
"bye bye...buddy..."
Ad blocker interference detected!
Wikia is a free-to-use site that makes money from advertising. We have a modified experience for viewers using ad blockers

Wikia is not accessible if you've made further modifications. Remove the custom ad blocker rule(s) and the page will load as expected.