In 1995, Jolly Roger (Amusement Rides) Ltd., a coin-operated kiddie ride manufacturer based in Lincolnshire, England, got a licensing agreement with Walter Lantz Productions to produce coin-operated ride-on toys featuring Woody Woodpecker and Chilly Willy[1].
The first licensed kiddie ride Jolly Roger released featured Woody and Chilly Willy on a blue airplane ("aeroplane" as referred to by the manufacturer in England). While the ride is in motion, it plays the 1987 opening theme song from The Woody Woodpecker Show, also featuring a push button that plays Woody's famous laugh.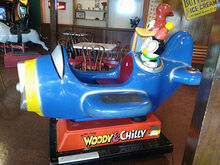 A few years later, In 1999, Jolly Roger released a fire engine ride with the two characters on each side, featuring two rectangular buttons: a green START button and a red button that plays sound effects. The audio played in this ride is very much the same as the old airplane model, except this time there are fire truck sound effects added.[2]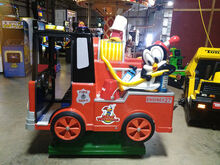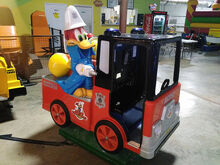 References
Edit