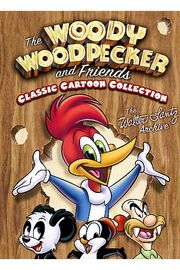 The Woody Woodpecker and Friends Classic Cartoon Collection: Volume 1 is the first widely-available Woody Woodpecker DVD, released on July 24th, 2007.
Woody Woodpecker

Oswald the Lucky Rabbit

Hells Heels 6/2/30
Spooks 7/14/30
Grandma's Pet 1/18/32
Confidence 7/31/33
The Merry Old Soul 11/27/33

Cartune Classics

King Klunk 9/4/33
Toyland Premiere 12/10/34
Hollywood Bowl 10/5/38
Scrambled Eggs 11/20/39
Hysterical Highspots in American History 3/31/41

Bonus features:

1982 documentary short: Walter, Woody and the World of Animation
Vintage 1932 documentary short: Cartoonland Mysteries
Woody Woodpecker
Andy Panda
Swing Symphonies

$21 a Day (Once a Month) 12/1/41
Pass the Biscuits, Mirandy! 8/23/43
The Greatest Man in Siam 3/27/44
Abou Ben Boogie 9/18/44
The Pied Piper of Basin Street 1/15/45

Bonus features:
Disc Three
Edit
Woody Woodpecker
Chilly Willy
Cartune Classics

Boogie Woogie Bugle Boy of Company "B" 9/1/41
Mother Goose on the Loose 4/13/42
Pigeon Patrol 8/3/42
Crazy Mixed Up Pup 2/14/55
Sh-h-h-h-h-h 6/6/55

Bonus Features

The Woody Woodpecker Show Halloween episode featuring Spook-a-Nanny
Ad blocker interference detected!
Wikia is a free-to-use site that makes money from advertising. We have a modified experience for viewers using ad blockers

Wikia is not accessible if you've made further modifications. Remove the custom ad blocker rule(s) and the page will load as expected.